Northern Adventure 15 Days
Ha Noi - Ba Be Lake - Vu Linh - Thac Ba Lake - Ha Giang - Dong Van - Meo Vac - Quang Binh - Bac Ha - Can Cau - Sa Pa - Lao Chai - Ta Van - Than Uyen - Mu Cang Chai - Moc Chau
Day 1: Ha Noi Arrival (L )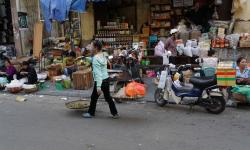 Arrive at NoiBai Airport. Meeting with guide and transfer to the hotel. Welcome dinner featured with Vietnamese specialty. Overnight in hotel.
Day 2: Ha Noi - Ba Be Lake(B, L )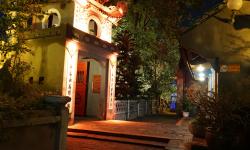 AM.: Depart for BaBe Lake, an mountain area, which is nearly 200 km far from Hanoi. Arrive on midday.
PM: Visit BaBe area : Nang river, grottos, waterfall. Overnight at ethnic village, namely PacNgoi, where visitors can get to know about Tay People. Enjoy daily meals of ethnic minorities. Overnight in guest's house
Day 3: Trekking From Ba Be To Tay's Villages (B, L,d)
AM 7-hour hard trekking to visit Tay's village accompanied by local guide. Take away lunch will be arranged. It takes 5-hour walk to the village - spend time with ethnic people. Overnight in the village of ethnic people
Day 4: Trekking Back To Ba Be Lake - Leave For Vulinh Village (B, L, D)
Depart to Tuyen Quang, an old headquarter of Viet Nam Revolution. Lunch on the way. Overnight in VuLinh village TuyenQuang. Walking around Vulinh village. Free time on this day for leisure, taking picture. Overnight at Tay house.
Day 5: Vulinh - Thacba Lake - Visit Me Village - Ha Giang (B, L)
AM :Have short boat trip in Thacba lake , a hydro-electric reservoir in YenBai. Then depart to Ha Giang town in 4 hour. Stop for short trekking to visit the Me village near by HaGiang town. Discover the home of Tay people and their culture.
PM : Overnight in Ha Giang hotel.
Day 6: Ha Giang - Dong Van (B, L ) There Is A Sunday Market.
Depart in the early morning to visit the wonderful world of ethnic minorities people. Going on the moutain with many impressive sceneries and visiting many basically ethnic villages and colourful weekly markets. Lunch at Quang Ba town. Overnight in Dong Van guest house.
Day 7: Dong Van - Meovac - Ha Giang - Quangbinh (B, L)
Turn back to Ha Giang from Dong Van. Continually to discover some cheerful and colourful ethnic Markets on the way. Lunch at Yen Ninh town.
Visit Hmong villages and Trang village near ThanhHa Resort and continue to QuangBinh. Overnight at hotel.
Day 8: Quangbinh - Bac Ha (B, L )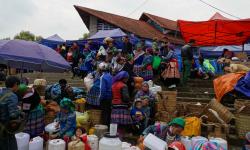 Afterbreakfast at hotel. You have short visit around QuangBinh area, a chance to meet Pathen minority people. Then leave for BacHa This day is a hard travelling by car but there will be beautiful scenery on route. Overnight at i hotel in BacHa
Day 9 : Cancau - Bacha(B, L ) On Saturday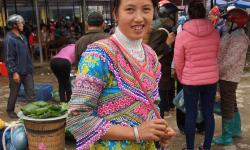 Leaving Bacha to visit CanCau Market an outstanding feature of ethnic people in the North. Or visit BacHa market which is organized weekly only in Sunday. 2 hour trekking to discover villages of ethnic minorities (SanDiu, HaNhi, Xa ...) that remain natural and unspoiled by tourists. Buying souvenir from ethnic people. Short walk to discover some surrounding villages (4-6 hours) with local guide.Overnight in Saomai Hotel.
Day 10: Bacha - Sapa (B, L ) On Sunday Morning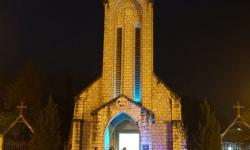 BacHa market. the beginning of the day on which you visit a big market filled with many different hill-tribe peoples. This is the most colourful market in North Vietnam. At the market, you have chance to enjoy BacHa people's simple but unique kinds of food with special wines made from rice, cassavas, corn and different sorts of fruits such as plumps, apples, peaches... talking to the minorities through the guide's...
Day 11: Sapa - Laochai - Tavan (B, L)
Enjoy the overall pictures of the villages among terraces. Visit the H'mong living in wooden and bamboo houses. Transfer by jeep and trekking to Tavan village to visit the Dzay minority.Take the road to GiangTaChai village of the Red Dzao minority via the paths between terraces and through bamboo
forests. Visit silver waterfall and suspension Rattan Bridge, visit the people in the village and then cross MuongHoa River up to...
Day 12: Sapa - Than Uyen (B, L )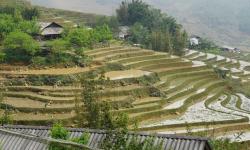 As we traverse Tram Ton Pass, the highest mountain pass in Viet Nam, we are afforded magnificent views andexperience a dramatic change of climate. the road to ThanYen is lined with fruit orchards, tea plantations, towering mountains and chance to meet and talk to the Hmong people, Overnight at guesthouse in ThanUyen.
Day 13 : Thanuyen - Mucangchai - Mocchau (B, L )
Am: continue to YenBai. Stop over in MucangChai.
Sometimes steep and often rugged, the road through the valley is both breathtaking and dramatic.
Hugging rice terraced mountainsides and fording turbulent rivers, our travels today are visually spectacular.
Then transfer directly to Moc Chau, Moc Chau town is 1,000 meters above sea level, and has a wonderfully temperate climate with four distinct seasons. Famous for its beautiful landscapes, tea plantation and...
Day 14 : Mocchau - Maichau - Hanoi (B, L )
Am : Drive to Mai Chau. We pass through a region of spectacular limestone mountains, passes, valleys and wind our way down hills to Mai Chau valley of the Thai people. We will spend the afternoon to walk around the village, learn more about the Thai and experience their hospitality from our stay in their house on stilts In MaiChau. You can take part in their traditional festival held on...
Day 15: Ha Noi Departure.(B)
Please contact with us to check detail rate
INQUIRY NOW
Tour cost includes:
Full transportation by Ford everest or Minibus as tour program indicated.

16 night with twin-share accommodation and daily breakfast;

English or French speaking guide
Sightseeing fees .

Permits to the remoted areas.
Half board :

lunches as mentioned in the itinerary
Private boat trip in Babe lake
Private boat in Da river
Traditional dancing show and rice wine in Maichau
Bicycles in Maichau
Tour cost excludes:
- Dinners in the itinerary ( 6-10USD/per/meal)
- Airport taxes; Visas; travel insurance; tips; personal expenses, emergency transfers.
You May Also Like
Useful Articles
Faqs
Why Book with us?
An exclusive offer for you.

Your satisfaction is my asset!

Premium quality.Guaranteed!